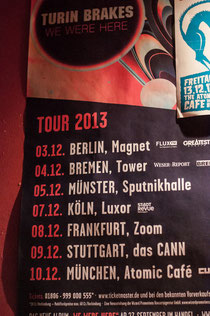 today I very proudly present impressions of the Turin Brakes live in concert.
the last gig of their "we were here"-tour took place in munich at the atomic cafe last tuesday.
i met olly knights, gale paridjanian, rob allum and eddie myer for the first time two years ago at the aftershow party of their fabulous 10-years-anniversary gig at KOKO club, london.
so this week I got the chance to meet them again. not only I took photos from the gig but I also got the exclusive possibility to shoot a bit while the soundcheck. after the show I was invited backstage.
soundcheck
the band came to germany by plane and therefore they travelled with "light" luggage. rob allums drum set had to be left in london and so rob sat behind the drums of "we used to be tourists", the opening act from cologne.
gig
the first four songs were all from the new album - and that is a damn good one. olly's voice interacts with gale's guitar in a fascinating way - a scenario that works so well. the gifted guitar player really enchants with his slide guitar. eddie plays the bass mandantory cool und rob seems to play the "cologne drum set" since ages.
so they played songs throughout almost all albums. the last song that night was "goodbye" - a breathtaking beautiful song about dying and "the stuff between the start and the other side".
backstage
after the phenomenal concert they invited us to hang out with them backstage in the bandroom. needless to say that they all are really nice guys with no star airs. olly knights was completely patient with all my questioning. so we sat there and drank beer and it seemed as everybody was happy - and so was I.
now they are home, recovering from the tour, maybe already with new songs in their heads... only remains for all Turin Brakes fans to hope it won't take another 3 long years to return this great band for an atmospheric gig!
break a leg (and the neck!) ;-)